Although there is no single most important trait, learning to find motivated seller leads can be one of the most critical skills in real estate investing.
If there's one thing that separates a struggling investor from most successful real estate investors, they have systems for generating leads. They have processes that work like clockwork day in and day out.
These investors generate 20 or more high-quality, motivated seller leads per month.
Does that sound too good to be true? It's not.
In 2003, we built our first website to generate motivated seller leads for wholesalers. Since then, we've refined our marketing systems, website platforms, and overall strategy on what it takes to drive leads online.
We've generated over 1,253,267 real estate-related leads in the past 5 years alone.
The lead generation strategies & options we will teach you in this article have been proven. Although they can take some upfront work, you can generate monthly leads once the ball is rolling.
Ready to learn how to find motivated sellers?
Let's do this.
What We'll Cover in This Post:
---
When You Get Motivated Leads You Need to Close Them!
Get the fool-proof strategies & step-by-step scripts used by real estate investing's top closers.
---
What Are Motivated Sellers?
A motivated seller is an owner who needs to get rid of their property quickly and meets at least one of the following conditions:
They are willing to sell below market value at a 10-30% price.
They are ready to sell under specific terms. Including no money down and no interest.
In an ideal situation, you'd want both conditions, but one advantage of working with them is that they have reasons they need to sell fast. You're there to help them solve it.
Some common types of motivated sellers include:
Distressed sellers
Landlords
Facing foreclosure
Relocating
Bank in possession of REOs
Divorce
Inherited houses
Recent job loss
5 Signs That a Seller is Motivated
You know what a motivated seller lead is.
But how can you spot them?
Here are five signs that a seller is motivated — you can gather this information through public records, online research, and, most importantly, talking directly to the seller.
Life-Changing Situation: If the owner is going through a life-changing situation like divorce, probate, bankruptcy, or moving across the country, they are far more likely to be in a hurry to sell… and to care less about how much they get.
Wants to Downsize: People who want to downsize often look to live more simply. They want a smaller house with less upkeep. And they're likely overwhelmed by the state of things in their current homes. These people often want to sell their property as-is for cash.
Property Has Sat On MLS: If the property has sat on the MLS for a long time (say, 6 months or more) without selling, there's probably something wrong with the house. And the owner might have come to terms with that and be interested in selling fast for cash.
Owner is Straightforward: If the owner neglects to discuss the problems with the property, they might still be trying to get top-dollar. But if they are open and honest about the quality of the house, then they might be more willing to make a deal.
Absentee & Vacant: An absentee owner is an owner who doesn't live in the same city or state as the property they own. If the property is also vacant, they're not making money on the property but are still, at the very least, paying property taxes. These types of owners commonly want to offload their property quickly.
How to Find Motivated Sellers
1. Find Your List
Many investors choose to buy lists of motivated seller leads. For example, you might be able to purchase a probate list pulled from courthouse records. Or a list of pre-foreclosures likely to sell in the coming two to three months.
Although finding this information can be time-consuming, if you don't have the time, you can use services such as DataTree and ListSource.
You must confirm the accuracy of the data. Some services may have data that is no longer relevant.
2. Drive for Dollars
Driving for dollars can be a great way to generate leads. You drive into your targeted neighborhoods looking for distressed or vacant properties.
While driving, you can create a list of properties to contact.
Another option is to use Google Maps Street View and apps such DealMachine. You can drive for dollars without leaving your house.
3. Find Motivated Seller Leads Online
SEO, PPC, and social media.
Let's start with SEO. SEO for real estate is what we consider the secret sauce of a successful real estate investor and investing marketing strategy.
Organic leads are where the majority of leads come from for our members.
It's not theory, here's a real peek behind the scenes…
We focus not only on SEO but also on how it builds into Evergreen marketing.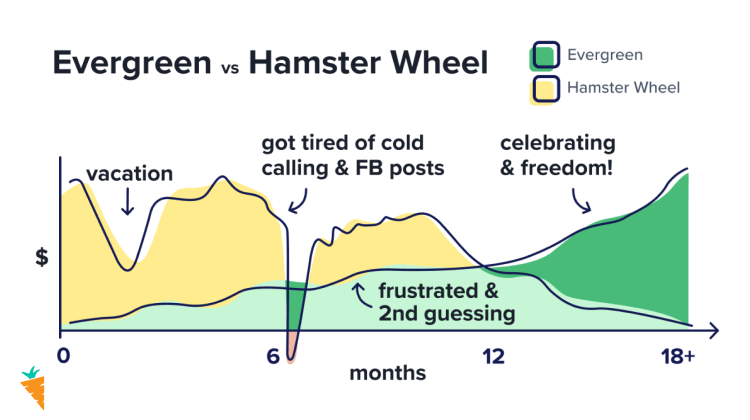 The definition of Evergreen marketing is: "a: retaining freshness or interest: perennial. b: universally and continually relevant: not limited in applicability to a particular event or date."
In marketing terms, it's marketing you do once, and it works for years… not hours, days, or weeks. Content relevant for a long time serves your best prospects and gets in front of them where they're searching online.
Results grow momentum over time = Freedom
We then amplify Evergreen with paid marketing and even hamster wheel marketing.
Hamster wheel marketing is defined as: "any situation that seems endless without goal or achievement."
In marketing terms, any marketing campaign that works for a short time after you do has a limited life span. Then you have to do it repeatedly to keep results coming in.
Cold calling, direct mail, posting on social, open houses, etc.
Results stop when you stop = Stress
Growing increasingly into the Evergreen is where you create consistency, freedom, and flexibility.
You can significantly impact your business, but that's where your most valuable and highest converting leads come from.
Building a solid lead generation engine for your real estate business will give you quality leads for life.
It's a big goal, but don't be intimated.
Here's some proof…
Tyler Ford has been getting 2x more motivated seller leads with Carrot than with his old site. The Carrot tools and Evergreen marketing content has helped him stand out in my crowded local market.
Here's his story… Tyler Almost Quit Real Estate After 20 Years – Until He Made these 8 Changes.
While paid advertising can immediately bring in motivated seller leads and help your business in the short term… SEO can build momentum and help grow your business over the long term.
But what is SEO?
It's pretty simple.
When a motivated seller wants to sell their house fast for cash, many go to Google and type in "Sell my house fast in [MARKET CITY]."
And when they do, Google shows them different websites that can help the searcher.
For example, if I search for "Sell my house fast in Dallas," Google thinks these real estate websites can help me.
Those websites get clicks and traffic from motivated sellers whenever someone types that phrase into Google… which is more often than you'd think.
That traffic then turns into leads (so long as the investor's website is optimized for conversion), and the investor generates deals monthly through SEO.
You can also pay to get in those search results…
And that is a good idea when you're starting. But it shouldn't replace your SEO strategy.
More than 90% of people click on organic results before PPC results.
So here's the question: how do you get Google to rank your website for a high-value keyword phrase?
Well, it can take time and some patience.
To start, you'll need to put the correct title on your page, have a website that loads quickly, and do a few other things. Reference this SEO guide for help.
And at Carrot, we have TONS of tools to help you.
We give you monthly SEO-optimized blog post content. Our websites have an SEO-friendly tech stack. We also allow you to track your progress on target keyword phrases and alert you to missing optimizations on any page.
SEO for real estate investors couldn't be any easier than with a Carrot site. :)
PPC is another valuable asset for generating motivated leads.
Google Ads can work so long as you have a solid strategy. Year after year, it's one of our Carrot members' top lead generation methods (behind organic leads).
Our real estate investor members consistently get feedback that their Google Ads leads are closing between 1 in 10 to 1 in 15 leads per deal.
Learn more about Google Ads for real estate investors in this ultimate guide.
4. Direct Mail
Real estate direct mail is one of the most tried and true ways for investors to generate real estate leads.
Although, a portion of mail ends up in the trash without a second look.
The average mailbox is packed with junk mail, bills, and other correspondence from various sources telling you about deals or offering their services. It can be easy for an envelope containing information on real estate opportunities to land within the other noise.
Direct mail still works and offers different opportunities if done correctly.
It's interactive.
It's memorable.
It can have an extensive reach.
It offers a lot of ways to get creative.
You can pair social media and content marketing (websites) with direct mail for an enhanced customer journey.
Learn more: Check out our Direct Mail Masterclass for Real Estate Investors.
5. Find FSBO Listings
FSBO sites can be a great place to find motivated sellers for free.
This one is pretty simple: go to your favorite real estate website (Zillow, Realtor.com, Redfin, etc.) and use their search filters to find homes that are For Sale By Owner.
These are usually good leads because the owners are already trying to sell without using a real estate agent, so they might be more open to working with an investor who can close quickly.
6. Bandit Signs
Bandit signs are "old school," and few new investors use them.
They can still be a great way to find motivated sellers and cash buyers.
One of the most significant issues with bandit signs is legality. Cities can have strict ordinances about putting them out. Generally, it's a good idea to check with your city before.
Here are some tips if you find it's legal:
Don't put your personal number on the bandit sign – instead, use a Call Rail Tracking Number, A Google Voice Number, or any number that will not lead back to you if someone were to Google the number.
Take your sign down immediately if someone has issues with it.
Don't post signs on private property.
7. Network With Local Attorneys
Earlier, we discussed how motivated sellers are people who need to sell their home quickly, as-is, for cash because they're in a situation lighting a fire under them.
That might be due to divorce, probate, foreclosure, or something difficult situation.
And who is better connected to those people and situations than local attorneys?
There are usually a few different types of attorneys you can network with to get motivated seller leads:
Estate Planning Attorneys
Bankruptcy Attorneys
Real Estate Attorneys
General Practice Attorneys who have a lot of clients
How do you find these kinds of attorneys? The best way is probably just to Google "[your city] + real estate investment planning attorney" or "[your city] + bankruptcy attorney."
Call the ones you find, tell them what you do, and offer them a referral commission for any properties they help you get under contract.
8. Network With City Inspectors
Another great source of motivated seller leads is city inspectors.
They're the ones who go around to properties and issue violation notices for things like:
Hoarding
Unsafe living conditions
Overgrown yards
Broken windows
Missing shingles, etc.
These people are a goldmine for motivated seller leads because they know exactly which properties are in such bad shape that the city threatens legal action.
The best way to find these inspectors is to call your city's main non-emergency number and ask to be connected with the department that handles code violations.
Once connected, explain what you do and offer to buy the inspector lunch. Get to know them and tell them you'll give them a finder's fee for any properties they send you that you can close on.
9. Peruse The MLS For Expired Listings
The MLS is a database of homes for sale that's only accessible to licensed real estate agents.
(Which is why it's beneficial to work with an investor-friendly real estate agent)
What you're looking for on the MLS are expired listings. These homes were listed for sale by a real estate agent, but the listing expired without selling.
This is often a good lead because the owner is motivated to sell.
Why?
Because they've been trying to sell (without success) for a long time!
To find expired listings in your area, go to your MLS website and set your search filters accordingly.
10. Use Craigslist
You can find just about anything on Craigslist these days… and that includes finding motivated sellers!
To find them, go to Craigslist.org and search "real estate for sale."
You're looking for properties sold by the owner (i.e., not by a real estate agent) that have been sitting on the market without selling for quite a while.
If you see a good lead, see if they're interested in selling to an investor.
11. Network With Agents
No one has better access to motivated sellers than real estate agents.
If you find an investor-friendly agent, you might be able to build a relationship where you refer each other leads.
If you find someone who doesn't want to sell their house fast for cash, you can send them to your agent connection. If the agent finds someone who prefers a fast cash transaction, they can send the lead your way.
This is a win-win relationship.
And there's no reason not to build it.
The Difference Between Inbound & Outbound Lead Generation
We've shared a lot of different strategies on this blog for real estate lead generation: Traffic plus Conversions, and we've shown you a bunch of great strategies for building traffic. If you haven't read those posts, click those links to check them out… I'll try not to duplicate much here.
Real estate investors can generate motivated leads using outbound and inbound (paid and organic) sources. Both are good ways to generate leads.
Confused?
Let me make it more simple.
"Outbound" marketing is direct mail, cold calling, and driving for dollars.
"Inbound" marketing is Google Ads, Microsoft ads, and Facebook strategies, also, with good content through organic search rankings or SEO.
The Simple Motivated Seller Lead Generation Formula
To generate more motivated seller leads for your business, you first have to understand the simple formula for lead generation.
That is, how is a lead generated in the first place?
Different investors will answer that question differently. Some will say that cold calling is how you generate leads, others will say direct mail, and others will say by personally connecting with people in the community.
And none of those answers are wrong.
Successful investors also use direct mail and/or cold calling to generate consistent business leads.
But they also do something that very few investors don't do.
They systematically generate leads by using the below formula…
TRAFFIC + CONVERSION = LEADS
Let's break that down.
Traffic is when people visit your website. They might come through paid advertisements you're running (like Facebook Ads or Google Ads), or they might come organically through a search engine (Google) or a social media site (Facebook).
Wherever they come from, one thing is for sure… you can't generate leads on autopilot through your website if you're not generating traffic.
Paid ads effectively drive immediate traffic to your website. Building your organic traffic takes a little more time (but the payoff is massive) — more on organic traffic or "SEO" shortly.
What about conversions?
A conversion is when, after visiting your website, the person takes the action you want them to take. Usually, that's filling out a form that provides you with their contact information or calling your business directly.
And voila! You have a lead.
Those are the two vital elements to generating motivated seller leads.
You have to drive traffic to your website consistently and consistently convert that traffic into leads for your business.
And Carrot websites have the highest conversion rate in the industry (usually between 10% and 20%).
That's why we believe in our product so much.
We know that if someone takes their organic traffic seriously and uses Carrot to create their website, they'll have everything they need to build a winning business.
The Magic of Conversion Optimization
Remember the formula we talked about?
Traffic + Conversion = Leads
Well… you need both traffic and conversions.
It's not uncommon for us to see a real estate investor succeed at driving traffic to their website through paid ads or SEO… but convert almost none of that traffic into leads.
Why?
Because their site isn't set up to convert.
There's a big difference between a website built to convert visitors and one that… isn't.
Let me show you what I mean.
Imagine that you search in Google for the phrase "Sell my house fast in Dallas."
You're probably pretty motivated — you want to sell fast for cash and wonder how that's possible.
So you click on some results in Google.
The first website you go to looks like this…
That's not too bad, but there's a lot of text to read on the first page… and you're looking for a quick solution, so leave the tab open but go to a different Google result.
The following website you visit looks like this…
Now we're talking!
This site seems to give you precisely what you want… and by entering a few details, you can get your fair cash offer today — that's perfect!
See the difference?
The first site doesn't solve your problem immediately, but the second site does.
Well… that's because the second site is a Carrot site… and we've run hundreds of tests to determine what converts website visitors to the best in the real estate industry. We've then taken what we've learned and baked conversion optimization into every one of our member's sites.
As a Carrot member, you start with a high-converting site.
Most people who switch to Carrot see a measly 2% or 3% conversion rate on their old site… and then get up to a 20% conversion rate on their Carrot site!
Here's a Carrot member with a 9% conversion rate (693 leads divided by the 7,661 visitors).
Ultimately, you need traffic and conversions to generate consistently motivated seller leads.
How to Negotiate with Motivated Sellers
When it comes to negotiating with motivated sellers, there are some commonalities.
We all know that price is not something that's set in stone. And neither is a seller's immediate inclination to work with or not with you.
They could call you ready to sell but a few days later lose interest. Or they could call skeptically and leave the call prepared to sign.
Part of what determines these outcomes is how you negotiate. What you say, what questions you ask, and how you talk could impact.
So we spoke with some experienced real estate investors and asked them how they negotiate with sellers to close more deals.
Learn more about negotiating by visiting this blog post and downloading our real estate negotiation playbook.
Here are a few additional tips.
Find Your Max Offer
One of the essential skills for finding motivated sellers is negotiating with motivated sellers.
You might be able to find lots of motivated sellers.
But if you can't make them an offer.
Negotiate.
And close.
Then you're not going to make it very far.
The first step to negotiating with a motivated seller is to research — run comps (or get help from an agent) to determine the property's real estate ARV (After Repair Value).
Estimate the cost of repairs (use a professional if you have to).
And then find your max cash offer.
You can use what real estate investors call the 70% rule.
Here's how it works.
Let's say the ARV is $200,000, meaning the property will sell for $200,000 once it's repaired and up to snuff.
You estimate repair costs will be about $30,000.
The 70% rule states that you should not pay MORE than 70% of the ARV of the property minus the cost of repairs.
In this case, that means…
($200,000 – $30,000) x .70 = Max Cash Offer
Crunch those numbers, and you get a max cash offer of $119,000.
This gives you plenty of room to make a profit, even with unexpected repairs.
Once you've received your max cash offer, decrease it by $20,000 or more.
That's the first number you want to bring to the seller — it'll leave you space to negotiate the price and the potential to make an additional profit if the owner accepts your first offer.
Determine Motivation
Now, it's essential to mention one more thing.
Before you bring your offer, you should've had a few conversations with the seller.
You should know why they're selling, how much they hope to get, and how motivated they are.
If you don't, get that information before you enter into negotiations.
That's cannon fodder for the discussion you're about to have — if you know why they're selling, then you can explain why your offer is what it is and how it will help them.
Summary
You now know what motivated sellers are and some standard methods to find them.
Finding motivated seller leads and negotiating with them looks doesn't need to be complicated. Pick one or two quicker lead generation methods and start working on your Evergreen SEO.
Be persistent with follow-up, as you never know what will happen after the third, fourth, or 16th.
Succeeding in real estate investing is a matter of patience and persistence. Finding motivated seller leads and contacting them can take plenty of practice.
Be consistent, and you'll be on your way to fulfilling your real estate investment career.