Amidst a flourishing housing market, experiencing a consistent influx of new clients and a series of prosperous sales, the challenge of navigating a cluttered spreadsheet for client management becomes more apparent.
As you contemplate taking your business to the next level, consider this: the real estate CRM—a tool designed to streamline your operations and enhance your efficiency.
With data-driven capabilities and organizational prowess, a CRM offers a solution that transcends traditional methods, providing a strategic advantage in today's dynamic real estate landscape.
Without a quality real estate CRM, you're losing deals and wasting marketing dollars.
See How Carrot Works How many deals are you losing to your competitor's website?
See How Carrot Works
Real estate businesses live and breathe on relationships. But relationships aren't easy.
Building a relationship requires consistency, devotion, and time. Keeping a relationship requires much the same.
And it's those relationships that real estate businesses thrive on.
But how do you build them and keep them? Especially when tons of people are seeking you out for assistance in buying or selling a home. How do you organize all those relationships and ensure you're giving each one the necessary attention?
Well, CRMs are one answer to that question.
CRMs allow you to keep your relationships organized and, because of that, build more connections and grow your business.
But which real estate CRM is best for you?
What is a Real Estate CRM?
CRM stands for Customer Relationship Management. CRMs allow you to keep detailed records of your leads and deals. Keeping all their contacts, opportunities, and behavioral information within one location.
Your CRM should be able to tell when a searcher first became a lead and became a deal. You might also know what they like, how they prefer to communicate, and many other details.
A quality CRM is a connective intelligence for your team. Without a tool like this, you miss out on that actionable intelligence, leading to less opportunity, fewer deals, and lost revenue.
Why Agents and Investors Need a CRM
Real estate agents and investors can greatly benefit from implementing a CRM system for various reasons:
Efficient Organization: A CRM provides a centralized platform for storing and managing client and lead information. This organized database streamlines daily operations and ensures that critical details are readily accessible.
Lead Management: CRMs offer robust lead management tools, enabling agents and investors to track leads, monitor their progress through the sales pipeline, and implement strategic follow-ups. This helps in converting leads into clients.
Automated Communication: CRMs often come with automation features that allow for the scheduling of emails, follow-ups, and reminders. This automation ensures consistent communication with clients and leads, enhancing engagement.
Task and Calendar Management: With built-in task and calendar features, CRMs help real estate professionals stay on top of important dates, appointments, and deadlines. This contributes to better time management and organization.
Analytics and Reporting: Many CRMs provide analytics and reporting tools, allowing agents and investors to analyze performance metrics. This data-driven insight aids in understanding market trends, optimizing strategies, and making informed business decisions.
Document Storage and Management: Real estate transactions involve numerous documents. CRMs often include document storage capabilities, making it easy to organize, share, and retrieve essential paperwork in one secure location.
Collaboration and Team Communication: For real estate teams, CRMs facilitate collaboration by providing a shared platform for team members to access and update information. This promotes better coordination and communication within the team.
Customization: CRMs are adaptable to individual business needs. Agents and investors can customize their CRM to align with specific workflows, ensuring that the system complements their unique business processes.
Client Retention: Through effective communication, timely follow-ups, and personalized interactions, CRMs contribute to stronger client relationships. Satisfied clients are more likely to become repeat customers and refer the agent or investor to others.
Scalability: As a business grows, so does the volume of client and transaction data. CRMs are scalable, accommodating the expanding needs of a real estate business without compromising efficiency.
A CRM serves as a comprehensive tool that not only organizes and centralizes information but also enhances communication, automates tasks, and provides valuable insights, contributing to the overall success of real estate professionals.
11 Real Estate CRMs
Here are 11 real estate CRMs you could use and a short breakdown of what each one offers.
1. InvestorFuse
InvestorFuse is today's real estate investing market's most well-rounded, feature-rich (and affordable) CRM.
What does it do?
Here are some of the top features!
Actions
InvestorFuse is designed to be easy to use, so you won't need to return to school for an IT degree so that you can teach your team how to use it.
With a step-by-step approach, the software automatically generates actionable workflows that take the lead through the sales pipeline until they close the deal.
Automated Follow-Up
Automated text messages, emails, voicemail, and other actions to ensure no lead is lost are part of the picture. Your staff knows exactly which leads are on their plate.
Intuitive
InvestorFuse is a real estate investment software geared toward wholesaling and other real estate investing. Because it has more lead management than a typical CRM, you'll spend less time switching between platforms and focusing more on your company.
This tool helps your team finish work quickly and efficiently without searching multiple apps to manage leads.
Flexible Workflow
When your business is doing well, and you've brought on a team to handle part of the workload, you want to waste as little time managing them as possible. InvestorFuse offers a customizable workflow process and checklists that correspond tailor-made for your business goals so that you can quickly assign tasks and move forward.
This CRM is made for real estate investors by real estate investors.
The interface is gorgeous, and it's constantly being updated with new features.
Pricing: Starts at $147/month
2. Carrot
Carrot's real estate platform provides the end-to-end tools to attract, convert, and (most importantly) CLOSE more deals than ever. In fact, Carrot leads convert to deals 7x higher than non-Carrot leads and yield almost $14,000 profit per deal on average!
These numbers are no mistake, and while SEO tools and high-converting websites are responsible for acquiring highly-motivated leads, it comes down to Carrot's excellent lead management features to help you move quickly through sales cycle stages and generate revenue.
Carrot's real estate platform makes it easy to manage your lead workflow. Once a lead opts in on your website, you will be notified by email and/or SMS text.
Once you become aware of your new high-quality lead, it's time to utilize the Lead Manager tool to move leads through your sales process. Take a look at what it can do below.
Easily See All Your Leads In One Place
Carrot's Lead Manager lets you quickly sort through your leads and search each form to find the data to help you close more deals.
But the lead manager does more than collect your leads. You can also engage and enhance visibility by:
Leaving notes on conversations with high-valued leads to retain invaluable deal knowledge
Quickly search specific forms for leads to gain context of your customer's contact information or their wants and needs
Search functionality to look for leads by name or address for quick follow-ups
Plus more!
To learn more about how to use Lead Manager, check out our brief help center tutorial.
If you need a more robust CRM, Carrot easily integrates with third-party CRMs and other marketing integrations. We recommend checking out the Carrot + InvestorFuse demo (the #1 CRM listed above). Still, if you have another service in mind, you can learn more about how Carrot integrates with CRMs in our help center.
We can help you build a competition-squashing online presence with strong SEO-ranking content marketing tools, high-converting websites, landing pages, and lead management tools to win more deals with higher returns.
Don't wait! Look at all we offer and try us risk-free with our 30-day money-back guarantee.
3. REISift
For many reasons, REISift is one of the most highly rated CRMs explicitly built for real estate investors.
With it, you can manage your data, create internal workflows, track follow-up attempts, skip trace, schedule direct mail campaigns, cold calls, and more.
It's the all-in-one tool many investors are switching to for managing (and growing) their real estate business.
Pricing: Starts at $49/month
4. Deal Machine
If you've ever attempted to discover and contact a property owner directly, you know how time-consuming it is. There's a need for software and solutions that can make it simpler for real estate investors to quickly get in touch with property owners via mail, email, or phone.
DealMachine is an app that helps you send out mail solicitations to the owners of specific properties, which have been hand-picked by you, and track down a property owner's (e.g., mailing addresses, email addresses, and phone numbers) complete contact information.
Sound awesome?
It is.
Here are some of the top features!
Driving For Dollars
One of the best features of DealMachine is the ability to drive for dollars and find motivated sellers who are likely to respond to your offer.
While you're driving and see a property you want to research, stop the car on the side of the road. Then, open the app on your phone and click on that property.
The app gives you the homeowner's contact information from public records and third-party data within seconds, including their phone number, email address, and mailing address.
Then, you can call the owner to see if they're interested in selling or set up a direct mail campaign with a single click.
DealMachine also tracks your driving route, so you don't have to worry about driving the same route twice.
Real Estate List Builder
DealMachine's list-building functionality is a quick approach to creating a list of motivated sellers without leaving your home. The property owner information it pulls is surprisingly accurate.
To get started, you can enter a city or zip code to generate a list of properties.
Then, you can filter the list by criteria such as estimated value, equity, mortgage balance, and more.
Once you have your list of potential sellers, click on each property to research the owner's contact information (via skip tracing).
You can also add notes to each property profile to remember important details about each lead.
Street Pics
Another great feature of DealMachine is the ability to snap street pics of properties and save them within the app.
You can then send direct mail with a picture of the person's property.
Mail Tracking
Want to know when your direct mail gets delivered? For an additional fee, DealMachine will update you on the status of your direct mail campaigns.
Comps
Want to run simple and surprisingly accurate comps on a property in just a few seconds? DealMachine has a feature that examines recent local sales on the MLS to run comps on your property.
Pricing: Starts at $49/month
5. Salesforce
Salesforce is one of the biggest and most popular CRMs on the market. Big businesses use it in nearly every industry and have many features to support it.
It's not as specific to real estate investing as some of the other options on this list, but if you're looking for an all-around great CRM with many features, Salesforce is worth considering.
Pricing: Starts at $25/user/month
6. Realvolve
Realvolve is another CRM built specifically for real estate agents. It's feature-rich and designed to help you manage your business, contacts, leads, properties, and more — all in one place.
With it, you can create internal workflows, manage your team, send email, SMS, and social media messages directly from the application, and tons more.
Pricing: Starts at $94/month
7. REI Automation Squad
REI Automation Squad was created by real estate investors who needed a simple way to automate and track KPIs. Their Beast Mode CRM was created using feedback from fellow real estate investors.
They now have over 2,000 users on their CRM platforms.
Their business is built off EOS methodology, where team members are assigned roles and KPI goals.
Pricing: REI Automation Squad offers three services, from free to more advanced fee-based services. Their most popular and complete service, Beast Mode CRM, is $197 monthly for one (3) users or less. Additional users can be added for $25 a month.
8. LionDesk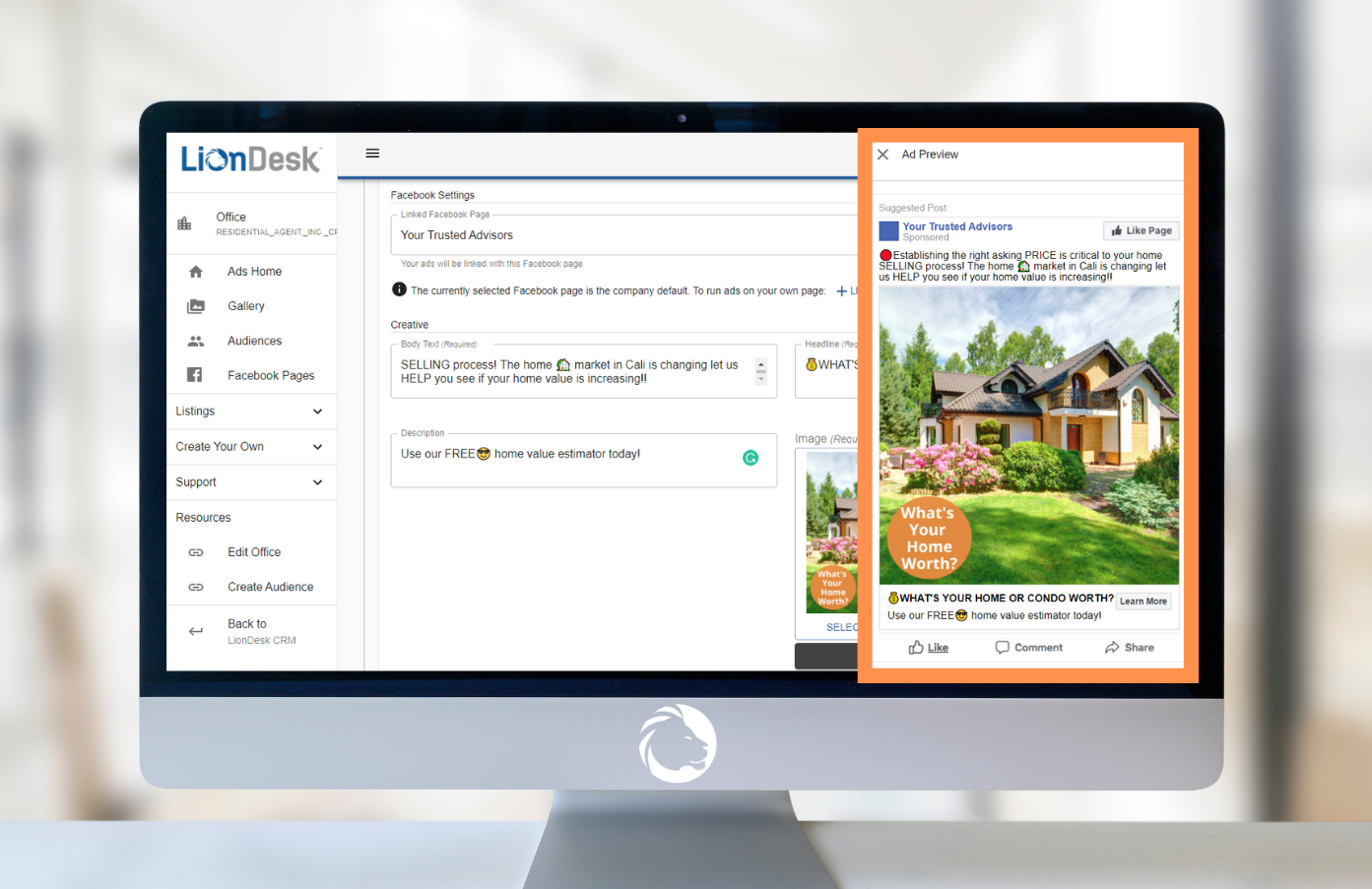 LionDesk is another CRM built specifically for real estate agents. It includes a power dialer, automatic lead capture, drip campaigns, email and text templates, and more.
It even includes a text message manager that allows you to send and receive text messages directly from the application — no need for a separate texting app (you can also send video texts!).
Pricing: Starts at $99/month
9. Wise Agent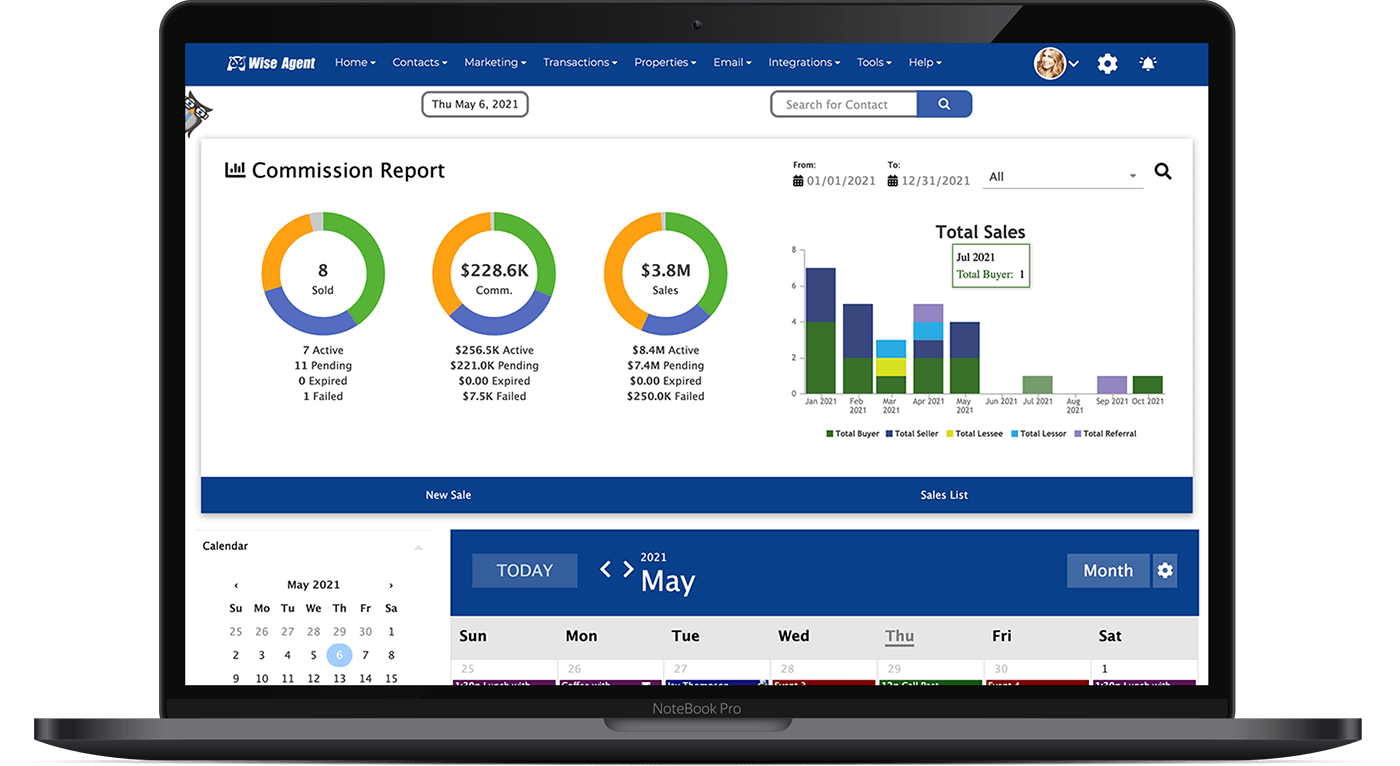 Wise Agent is a cloud-based CRM designed for real estate professionals. It offers a suite of features, including contact management, IDX/lead capture, transaction management, and marketing automation.
Additionally, Wise Agent integrates with some third-party applications such as QuickBooks, Google Calendar, Dropbox, and MailChimp. This makes it easy to manage your business from a single platform.
Pricing: Starts at $32/month
10. Hubspot
HubSpot Sales is a powerful CRM designed to help sales teams close more deals and accelerate their sales pipeline.
HubSpot Sales offers many features, including contact management, deal tracking, email integration, and built-in phone Calling. HubSpot Sales also has a robust reporting system that gives you visibility into your sales pipeline and performance.
If you're looking for a CRM to help you close more deals and accelerate your sales pipeline, then HubSpot Sales is worth considering.
Pricing: Starts at $45/month
11. Forefront CRM
Forefront CRM is a versatile tool that holds promise for real estate investors. As a CRM system, its suitability depends on the specific requirements and preferences of each investor.
Forefront CRM offers customization features, allowing users to tailor the system to their needs. This adaptability can help efficiently manage properties, leads, and contacts.
Automation features enhance productivity by automating routine tasks like follow-ups and email campaigns. It also offers tools for property management, helping investors track property details, repairs, and rental income efficiently.
However, the decision to use Forefront CRM should be based on individual requirements, familiarity with CRM systems, and budget considerations.
Pricing: Starts at $99/month
What You Are Missing If You Don't Have a Real Estate CRM
If you don't currently use a CRM for your real estate business, you're probably wondering how you would apply its use to your day-to-day and how it impacts revenue generation.
The bottom line is that you're losing money without a CRM setup tailored to your specific needs. Here's why:
You're Losing Details About the Leads
If you're not using a CRM, you forget the details about the lead, the property, and the conversations. CRMs allow you to stay on top of your leads.
Keeping track of the essential details will help you build a more trustworthy relationship with the buyer or seller.
You're Wasting Time
Most communication is virtual or "digital" now, so you need a centralized hub. You can quickly and easily search that hub for contacts.
All communication with the lead can be quickly shared amongst teams so everyone is on the same page. Quick data sharing protects against wasting time rediscovering information with the lead and portraying a brand with its business dialed in.
You're Missing Critical Observations
Do they need more information about buying or selling a house and how your service can help them?
Do they need a reminder about your service?
Do they deserve some cost break or special offer such as helping them make repairs?
Speak to them as buyers and sellers seeking specific information on their journey. The sales cycle is frequently shortened, and you'll generate more engagement, deals, and brand loyalty.
You're Losing Channel Data
Do you know what your most successful marketing channel is?
Or, what is your most successful marketing campaign?
Does your most successful channel change each year or season?
Where are your most profitable deals?
Do your marketing channels experience the 80/20 or maybe a 60/40 rule?
Knowing these answers and identifying your key metrics allows you to grow your business without guessing.
Save yourself time, hassle, and guesswork of pulling data from different channels.
Real estate CRMs help you understand which channels perform best and where you can scale up or back.
Final Thoughts
Choosing the right CRM for your real estate business is essential. The CRM you choose should be based on the specific needs of your business.
If you're unsure which CRM is right, look at our 11 real estate CRMs for investors and agents. You'll find the perfect CRM for your business with many great options.
Did we miss your favorite CRM? Hit us in the comments section below, or join the Carrot Community! Submit questions and engage with other Carrot members.