Having good real estate backlinks can provide a huge boost in your organic rankings. However, if you do them wrong, the effect can devastate your rankings, sending them into the Google abyss. That is why educating yourself before starting a link-building strategy is critical.
What Are Real Estate Backlinks?
Backlinks are links from one website to a page on another website. Google and other search engines see backlinks as "votes" for a specific page. Pages with a high number of backlinks tend to have high organic search engine rankings.
Why Are Real Estate Backlinks Important?
Backlinks are a major piece of the SEO (search engine optimization) puzzle.
They go together like peanut butter and jelly. You need one to make the other better.
High-level, here are four quick reasons why it's important to have a good backlink strategy:
Backlinks are how Google (and other search engines) find your pages.
Backlinks are a way to show Google that you have a solid reputation. Search engines will push searchers to websites they can trust.
Relevant backlinks can boost your authority.
Backlinks drive more traffic to your website.
Here's an example. When someone types "sell my house in [market city]" or "real estate agent in [market city]" into Google, you want your website to come up on the first page.
If it doesn't, you're missing out on a lot of website traffic, leads, and, more importantly, deals.
Some 93% of internet experiences start with a search engine, including the real estate industry. When people — your target market — are looking for help, they go to Google.
And if you show up on the first page, that's good for business.
Two of the most powerful factors for ranking in Google are website traffic and backlink portfolio.
In other words, the more traffic and backlinks a page on your website receives, the better that page will rank for your target keyword phrases.
Unfortunately, getting traffic and backlinks are a few of the most difficult things to do. This is why this article will give you some practical tips for promoting your content and building links to your website.
Related Content: How Many Backlinks Does it Take to Start Ranking Your Real Estate Website in Google?
But first… let's talk about how you can track your SEO progress.
How to Track Your Rankings (Pay Attention to These 3 KPIs!)
You can build real estate backlinks and drive traffic to your website until you're blue in the face, but if you don't track your progress and the results of those actions… then, well, it's hard to know if all that hard work has been worth it.
So here are the primary KPIs you'll want to pay attention to and exactly how you can track those KPIs…
Target Keyword Rankings — When we're talking about SEO, this is the first thing you should pay attention to. Is the page you created ranking for the phrase you want it to rank for? Is it fluctuating up or down the rankings? As a Carrot member, you get access to our easy-to-use keyword ranking tracker that will alert you to any recent fluctuations in position.
Page Traffic Volume — Page traffic is an important element of SEO progress because 1) more traffic typically means better rankings and 2) well… more traffic is a great thing for lead generation. The easiest way to watch website traffic as a Carrot member is right inside the "Stats" tab of your dashboard…
Scroll down and you can see how much traffic each page of your website is getting and even where all that traffic is coming from.
Page Conversion Rate — This is the end goal, right? If you build backlinks and promote content, even if you drive traffic to your website, but those visitors don't convert into leads, then what's the point? You should expect at least a 2% conversion rate from your blog posts and 10% from your homepage. If your conversion rate is lower than that, check out this article. To check your conversion rate as a Carrot member, go to your "Stats" dashboard, scroll down, and look at the "Conv. Rate" column.
Now that you understand what KPIs to keep an eye on for your SEO efforts, let's talk about how to promote your content and get backlinks!
Here are 9 real estate backlinks strategies…
1. Consistent Content Creation
This is your first step on the way to building your SEO rankings. Without consistently creating blog content for your website, you might rank for a few keyword phrases with your homepage, but you won't rank for any longtail keyword phrases (like "how to deal with foreclosure" or "how to sell my how during a divorce").
Think of every piece of content like a door to your website. The more doors you have, the more people who can visit your website, and the more opportunities you have to rank in Google — a good rule of thumb, though, is to only create one piece of content for each keyword phrase you're targetting.
While creating content consistently can be time-consuming, our Content Pro and Advanced Marketer plan at Carrot come with done-for-you blog content. Just customize about 25% of each post and publish it!
Many of our members, like Ryan Dossey, consistently get SEO leads from those done-for-you blog posts!
But maybe you want to create your unique content… no problem! We've created VideoPost, which you can use to transcribe video content right into a blog post with the click of a button — learn more over here.
2. Citations
A quick-and-easy win for your SEO rankings is ensuring your citations are in order. Citations are your business listings on third-party websites (Google Business, Yahoo, etc). The more citations you have, the better (aim for at least 50) — just make sure all those citations use the same contact info and have the same business name.
Building your citations involves finding third-party listing sites and submitting your information… which can be a little time-consuming.
3. HARO
HARO (which stands for Help A Reporter Out) is a great way to build backlinks and market authority simultaneously. Journalists sign up for HARO to get quotes and contributions from market experts. And you can sign up for HARO (for free) to become a source of expertise for those journalists.
Oftentimes, if they choose to quote you, they'll also give you a backlink.
Heck, you could even outsource this to a VA if you want. You can learn more about using HARO to build backlinks.
4. #Journorequest
The hashtag #JournoRequest is another direct line to journalists writing online articles and seeking expert contributions.
By searching the hashtag on Twitter, your page will populate with many different online writers looking for specific types of contributions. Most of the time, they'll have no problem providing a backlink in return.
Again, this is so simple that you could pay a VA to scour Twitter for you and look for backlink-building contribution opportunities. You'll have to provide them with expert quotes when they find one.
5. Manual Outreach
Social media shares are like gold — highly desirable but in short supply.
When someone shares one of your articles or posts on social media, you get free publicity in front of all their friends and/or followers.
Unfortunately, getting shares can be a real pain — even if the content you created is share-worthy.
Still, by explicitly asking certain people to share a piece of content you created, you can get more social shares and increase the content's organic reach. If you know people who love your business, why not reach out about a recent piece of content and ask if they'd share it?
You might be surprised at their willingness to help.
Try something like…
Hey [name]!


I just finished putting this together and I though you might find it valuable — [LINK].

If you do, would you mind sharing it with your audience. Either way, I hope you enjoy it! :)
Make sure you adapt that message to fit the person you're messaging and your relationship with them.
6. QuuuPromote
QuuuPromote is a service where you can pay to get Twitter shares for your content. Here's how it works…
There are two sides to Quuu's business model. The first side comprises "influencers" who want to automatically post quality content on their Twitter feed — they pay Quuu to do just that.
The second side of Quuu's business model is made of people (like you!) who have good content and want to get that content shared on Twitter — Quuu then posts that content on the "influencer's" Twitter feeds.
So yeah… from a business model perspective, Quuu is having their cake and eating it, too. But it's relatively inexpensive and worth giving a try if you want more shares and clicks (inside your Quuu dashboard, you can see how many clicks your promotions are getting).
7. Facebook "Boost"
A lot of online articles that talk about Facebook ads discourage you from using the Facebook "Boost" button.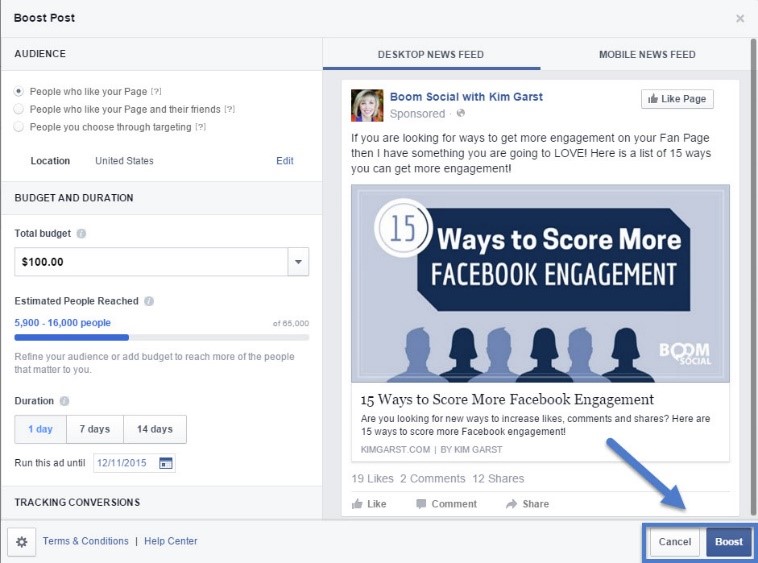 And while we definitely wouldn't recommend using it as a long-term lead-driving strategy, it can be a convenient shortcut to getting more eyes on your blog content. Why not at least try it and see how it goes? Click the "Boost" button, customize your audience, and pay attention to how much engagement you receive.
8. Testimonials
Another way to build real estate backlinks in very little time (but with a big impact) is to offer testimonials for online businesses where you're a customer.
All online businesses are looking for testimonials from their customers. And most of them won't bat an eyelid at your request for a backlink in return. High-quality testimonials also build your online authority.
Just make a list of all the online tools you use and love. Then send those businesses an email with your testimonial, asking for a backlink in return. Here's your swipe-able template for that.
---
Subject: I LOVE your company…

Hey [name of business or person you're pitching]!

My name is [name] and I'm a real estate [investor/agent] in [location]. I've been using your service for [length of time] and it's completely changed the way that I do business. I love it so much that I wanted to send over a testimonial that you can use if you feel so inclined. :-)

"[Testimonial]."

I hope you can use that testimonial to encourage others to use your [service/tool/product]. It's been absolutely amazing.

Thanks for building something so genuinely helpful.

And if you do decide to use the testimonial, it would be awesome if you'd include a link to [your website] when quoting me.

Either way, keep up the good work. :-)

Cheers,

[name]
9. Guest Posting & Podcast Pitching
An oft-forgotten and easy way to build relevant backlinks is by being a guest on real estate podcasts or by guest posting on a real estate blog.
And the easiest way to find these podcasts is by Googling something like "real estate investing podcasts," "small-business entrepreneurship podcasts," or "real estate investing blogs."
Remember, the smaller the podcast or blog, the easier it will be get accepted as a guest. The more prestigious it is, the more difficult it'll be.
Then, find an email on their website or a "Contact Us" form and use this template to pitch your idea (or have a VA do it for you).
For podcasts…
Subject: Quick idea…

Hey [name of person or business]!

My name is [name] and I'm a real estate [investor/agent] in [location]. My business has [build credibility with revenue numbers, media mentions, or a testimonial from a past customer]. And I'd LOVE to be a guest on your podcast to discuss [pitch a relevant topic you'd be comfortable discussing].

What do you think? Is that something we could set up?

Let me know! I'd be happy to get it on the calendar. :-)

Cheers,

[Name]
And adapted for blog posts…
Subject: Quick idea…

Hey [name of person or business]!

My name is [name] and I'm a real estate [investor/agent] in [location]. My business has [build credibility with revenue numbers, media mentions, or a testimonial from a past customer]. And I'd LOVE to write an article for your website. Here's my idea: [pitch a relevant topic you'd be comfortable writing about].

What do you think?

Let me know! I'd be happy to get started on it right away. :-)

Cheers,

[Name]
WARNING: Avoid These 2 Link-Building & SEO Tactics
Regarding SEO, it's not just important to use the right strategies. It's also important that you don't use the wrong strategies.
Shady link-building tactics- often referred to as "black-hat SEO"- can get your website penalized by Google and completely destroy your rankings.
For that reason, we recommend avoiding the following 3 link-building tactics…
1. PBNs
Look, building backlinks are difficult. It's time-consuming, expensive, and soul-crushing.
We all know it.
Which is exactly why PBNs are so darn tempting…
These services promise to build backlinks to your website at a remarkably low cost and get your website ranking quickly. They won't say much about how they're going to build those backlinks, but the promise of seeing your website on the first page of Google's results is enough to persuade most of us to enter our credit card information.
Since they won't tell you how they build your website backlinks, I will…
In a nutshell, they purchase hundreds or thousands of expired/unused domains with a bit of SEO juice built from the previous owners. Then, they go to all these domains and plug a backlink to your website.
After a bit, your website starts to rank, and you're thinking, "Wow! These guys are awesome!"
Here's the problem: PBNs cheat the system. Google explicitly says that using a PBN won't only get the PBN company in trouble, it'll get your website penalized as well.
It'll all be good and fine until Google finds out. And they almost always find out.
Once they do, your website will take a massive dive in the rankings (or get banned from indexing altogether) – and recovering from that loss will be harder than trying to get a new website ranking (because you've lost Google's trust).
2. Paying for Backlinks
Google explicitly says that it doesn't want people paying for backlinks… but still, this no-no comes with a bit of a caveat.
If you're going to pay for backlinks, pay for good white-hat backlinks — ones that come from real sites with real domain authority in Google's eyes. And be very careful about buying cheap links from sites that promise quick and fast results.
You can check the SEO spam score of a website over here for free…
Ideally, your real estate backlinks should come from sites with low spam scores. Ask any SE firm you're considering hiring how they build backlinks and where those links come from. That will tell you a lot about whether those links are high-quality.
Conclusion
There you have it!
You should now understand how to build your SEO rankings with real estate backlinks and content promotion.
If you have any more questions, feel free to ask them in the comments, and we'll help you out however we can! Good luck!