Chapter 1: Real Estate SEO
What Is It and Why Is It Important?

Real Estate SEO is the practice of driving targeted traffic to a website from a search engine's organic rankings.

Good SEO includes creating high-quality content, optimizing content around specific keywords, and building backlinks.
SEO is all about improving your website's rankings in the organic section of the search results.
Whether you're doing buying multi-family units or you're looking for traditional sellers, cash buyers, private lenders, note sellers, you need to understand search engine optimization and how it can change your business for the better.
What is Real Estate SEO?
SEO is just like fishing with a net. When you put the net in the right spot, you're going to catch a lot of fish.
To break it down in simple terms, by giving Google and other search engines what they want, Google will reward you with higher rankings.
Each search engine — Google, Yahoo, Bing, etc — has an algorithm that crawls online web pages to determine which results to show people when they search for any given keyword phrase (i.e. the words they type into the search engine).
By "optimizing" your own real estate web page(s) for a search engine's algorithm (usually Google since it's the biggest), you can rank for high-value phrases and drive passive traffic to your website.
Carrot members, for instance, often rank for market-specific phrases.
Why SEO is Important for Real Estate Lead Generation
It's a fact that the first 10 search engine results get the vast majority of clicks. 75% of searchers never scroll past the first page of search results.
The point is this: If you're not on page one, you're potentially losing out on tens of thousands of dollars.
"21 organic SEO Carrot deals in 2019. Do the math. Average net profit between $10K to $35K per deal. NO MONEY SPENT ON PPC!" – Tyler Ford

Very few folks actually click "next page" when they're searching… they never even see the results of Page 2, nevermind pages 4-9, which are hardly ever seen.
Again, what matters most is that you are ranked well for a search term people actually use.
Too often folks will just Google their own business name, see that their website comes up near the top, and think "great, I'm ranked!"
Unfortunately, that's not how it works. If you want to attract leads, you have to know the search terms they use.
You have to know your audience.
Free SEO Keyword Bible Download
How Search Engines Work
Search engines are can be visualized as libraries. They store web pages instead of filling shelves with books.
When you type a query into a search engine, the engine looks through all the pages in its index and tries to return the most relevant results for you.
To do this, it uses an algorithm. Algorithms are sort of a guessing game but Google does give clues.
Here's what they say on their "How Search algorithms work" page:
"These ranking systems are made up of not one, but a whole series of algorithms. To give you the most useful information, Search algorithms look at many factors, including the words of your query, relevance, and usability of pages, expertise of sources, and your location and settings.

The weight applied to each factor varies depending on the nature of your query—for example, the freshness of the content plays a bigger role in answering queries about current news topics than it does about dictionary definitions."
Google, is the most used search engine, at least for web searches. But, there are many other search engines you can SEO optimize for such as Bing.
Learn more about the ranking factors in this chapter.
Search Engine Ranking Factors
You may know that Google uses 200 plus ranking factors in their algorithm.
Don't let that intimidate you. You don't need to master all 200 plus to be successful. Really, you're better off learning the small set of ranking factors that make the largest impact. With just a little bit of knowledge of how SEO works, anyone can start building their rankings.
Below are the ranking factors that matter most for getting real results.
Top 9 Search Engine Ranking Factors for Real Estate Websites
SEO for real estate boils down to getting your website ranked. Here are the most important ranking signals in Google's algorithm right now for 2020.
1. Create Quality Content for Search Engines and People
The quality of your content is one of the highest value ranking factors. You can have a website that is optimized for SEO, but if your content isn't worthy, it's not going to rank.
Now, we know what you're thinking… "What does quality content look like?"
Google wants content that completely answers search queries.
Studies have found that longer content ranks higher than short content.
If you make sure that your content is thorough, then you shouldn't have a problem creating long-form content.
Next, make your content useful. Answer the question the searcher typed in.
For example, let's say you search for "how to sell my house fast in [market city]".
A piece of content that lists 10, fact-based, ways you can sell your house fast is more useful than an opinionated content piece about why selling a house fast is great for you.
2. Build Backlinks to Your Real Estate Website
A backlink is when another site links to your site. It's sort of like getting a vote of confidence from another website, at least, that's how Google sees it.
Search engines like Bing and Google measure these votes. And they use them to figure out which pages deserve to rank in the top 10.
For example, this Carrot website has 272 total backlinks:
Which has helped it climb the rankings to #1 for the target keyword: "we buy houses in Pittsburgh".
Which, of course, drives lots of traffic, leads, and even business revenue.
The bottom line?
The more "quality" backlinks a page gets, the better the opportunity it will rank well in search engines.
3. Write Unique Content that Stands Out
Surprisingly, one of the biggest ranking factors is time. The longer that a page exists, the more likely Google is going to rank it. In fact, the average length of time that a page #1 result has existed is between 650 and 950 days (2-4 years!).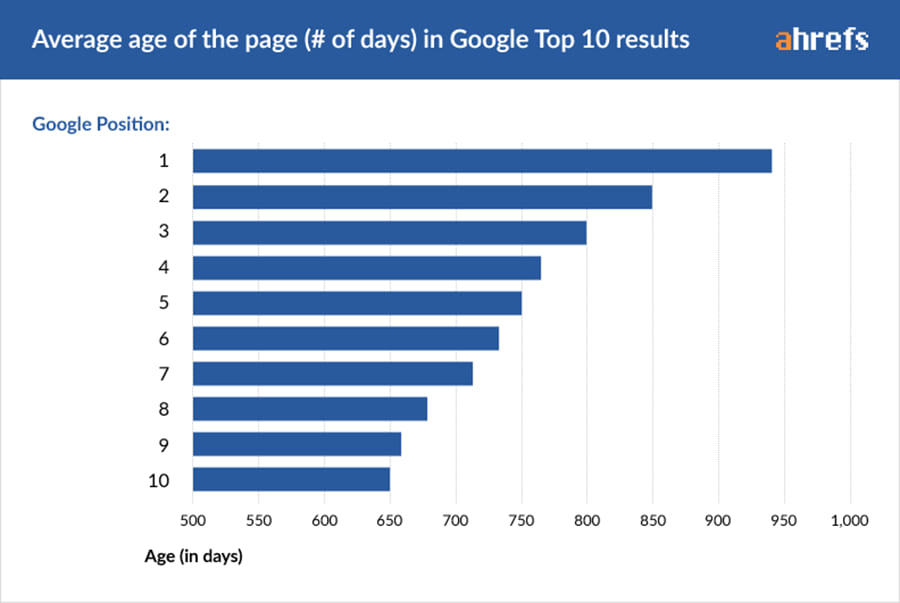 But don't let that discourage you. As a real estate agent or investor, you're dealing with significantly lower SEO competition than any sort of worldwide keyword phrases.
Still, having a content strategy where you create totally unique content on a regular basis and then update that content every 6 months or year is a great way to build rapport with Google's algorithm. Google loves unique content that gets regularly updated — it communicates that someone has put a lot of work into an article and Google is more likely to rank it because of that.
At Carrot, we believe in keeping things simple and effective. That's why we created VideoPost, a feature that allows you to automatically turn one of your videos into a long-form blog article with the click of a button. Sign up for Carrot risk-free for 30 days to try it out for yourself!
Click on the image below to see an example of a VideoPost.
4. Mobile SEO Optimized Real Estate Website
If you want to rank in Google in today's world, then your website must be optimized for mobile. Basically, mobile optimization just means that when someone visits your site on their smartphone or tablet, your website adapts to whatever screen they're using.
For example…
So why is mobile optimization important for SEO?
Google knows that more than 50% of people search online using their phones, and because of that, Google now prioritizes the mobile version of your website rather than the desktop version. If the mobile version of your site doesn't adapt to the screen or it loads too slowly, you're probably not going to rank.
Fortunately, all Carrot sites are built to automatically adapt to whatever device the visitor is using. If you're not a Carrot member, you can test your site for free over here to see what it looks like on mobile.
5. Make Sure Your Pages Are Fully Crawlable
Google uses bots to read, test, and rank websites. But if a website's pages are difficult to read or outright un-crawlable, then Google won't rank it.
How do you know if your website is fully crawlable?
The easiest way to know for sure is to get a website builder where the tech-stack is pre-built to communicate correctly with search engines (like Carrot!)
6. Page Load Speed
The faster your website loads, the better it will rank — plain and simple. Even milliseconds count.
There are lots of different ways to increase your page load speed. Compressing image files, cleaning up clunky code, and reducing redirects are all examples of strategies you can use to increase the speed of your website.
But our recommendation is to just build a fast website from the get-go. And for that, you'll want to use a website builder that's pre-optimized to load quickly and rank in search engines.
At Carrot, for instance, we're constantly testing and iterating the tech-stack of our member's sites to make sure they're the fastest in the industry. One of our recent tests on a Carrot site performed even better than Google.com.
Here's the Carrot site…
And here's Google…
Page speed is only one indicator of SEO rankings, but it's an important one. If your website loads too slowly, Google will hesitate to rank you, not to mention that you'll receive a high bounce rate (i.e. lots of people will leave before your site loads) if your website takes longer than 3 seconds.
7. Use Real Estate Keywords for SEO
Keywords are a fundamental part of your SEO strategy. If you don't target a specific keyword phrase with each page that you want to rank in Google, then you're probably not going to rank.
The fact is, you have to tell Google what keyword phrase you're trying to rank for. And the clearer you are about it, the better chance you have of reaching page one.
Remember, Google's only way of telling what your page is about is by reading the words on the page. And you'll want to make sure and include the exact match of the keyword phrase you're trying to rank for within the title of your page (the H1 header), a few subheadings, and even within the text of your page.
How do you know when you've done enough?
We created our Carrot SEO Tool to automatically answer that question for you. On every page of your Carrot site, you'll be able to see a list of to-dos for optimizing that page for search engines.
Carrot SEO Tool
Once you have the green light, you can hit publish!
In the end, you might be able to rank a keyword-optimized webpage without considering too many other factors, but you definitely won't rank a page for anything if your keywords aren't in order.
For real estate, here are some common keywords that you'll want to consider creating pages for…
Sell my house fast in [MARKET CITY]
Buy a house in [MARKET CITY]
Real estate buyer in [MARKET CITY]
Real estate agent in [MARKET CITY]
Free SEO Keyword Bible Download
8. Search Intent Match
Targetting specific keyword phrases is a fundamental part of any SEO strategy, but how do you know which keywords to target?
Once you've identified some keyword opportunities (phrases that have some sort of search volume), the next most important question to ask yourself is: "Why are people searching for this?"
In other words, what is the searcher's intent? Are they just looking for free advice or are they looking for a company that can buy their house quickly for cash, or for a real estate agent who can help them find the house of their dreams?
Once you know why someone is searching for a specific phrase, you can craft content to rank. And with a Content Pro or Advanced Marketer membership at Carrot, you can set that SEO content creation on autopilot — find out more over here!
9. Domain Power
The more backlinks that you get to your website, the more amazing content that you create, and the more that Google learns to trust you, the higher your domain power is going to climb. Different tools call it different things. Ahrefs calls it Domain Rating and Moz calls it Domain Authority. But it's just a basic rating of your domain's SEO authority on a scale from 1 to 100 — the higher, the better.
With a Carrot membership, you can track your SEO rankings and keep an eye on just how much traffic your website is bringing you through SEO…
Final Thoughts
Knowing how search engines work and the factors they're looking for when ranking content is critical when trying to create content that ranks for your real estate business.
Search engine algorithms change all the time and so there is no guarantee that what is important now will still be important in the future.
Factors like backlinks, keywords and matching search intent have been critical factors for many years. Staying consistent with these factors is important going forward.
Looking to learn more about SEO for real estate agents or real estate investors? Check out our Real Estate SEO guide.
See Carrot in Action
Grow Your Real Estate Website's
Traffic, Leads, & Results With Carrot's Online Marketing Software
---